The Ultimate Checklist for Starting a New Online Business

Starting a new online business is both scary and exciting. It's a considerable risk that takes a huge personal investment of time and money, but when it becomes successful, there's no better feeling! If you're starting a new online business in 2023, We've compiled the ultimate business checklist, so you have everything you need to hit the ground running. As an online business owner who has grown subscriber lists, launched e-courses, and run a brick-and-mortar company for over ten years, we have learned all the tips and tricks the hard way so you don't have to. However, if you want to skip to the end, we've included the link to download our Free Brainstorming Guide so you can start planning a successful brand today! Here's my ultimate business checklist for new business owners:
Business Name
Of course, a business name is essential. Your business needs an identity that goes beyond your first and last name. This gives your business room to grow and allows you to scale your revenue as you find more success. A business name also proclaims what your brand does best and what people can expect from your business.
Brainstorm Your Logo Creation Today!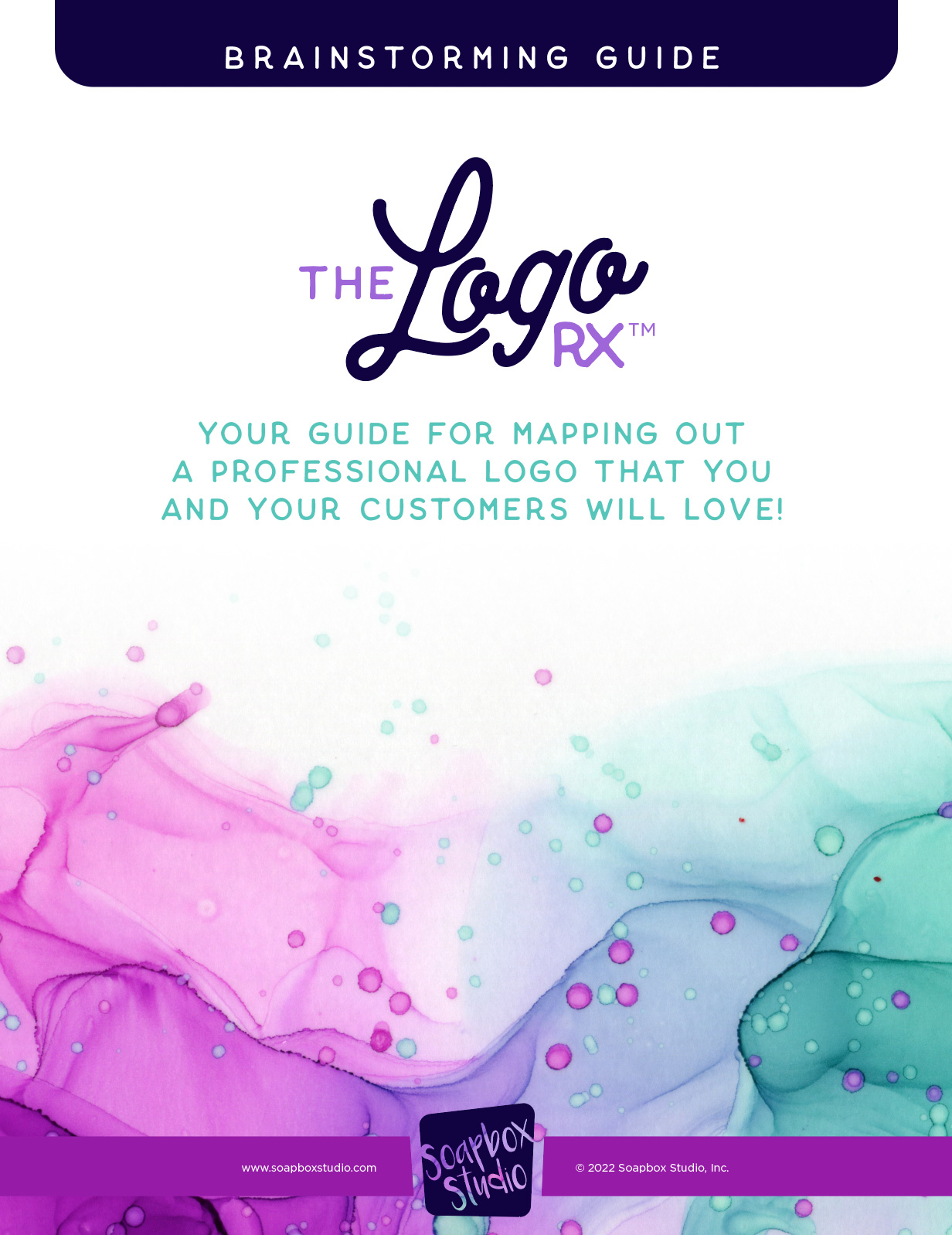 This guide will walk you through the steps I use as a professional designer, to create beautiful logos for all my clients. I am sharing my steps for FREE, so you can use this secret sauce on your own logos.
Core Values
Creating core values is a step that's easy to skip or push off until later. However, your core values can dictate each action you take as a business owner. Core values help you to know what your brand prioritizes and what you find valuable. Your core values will help customers and clients align with your mission down the road. But at the beginning of establishing your mission, core values are a helpful filter to select the most effective business moves to start with. For example, do you prioritize a solid work-life balance and set hours for work and free time? Or do you prioritize flexibility and integration so that you can work from anywhere? Your values will help you make the business moves to achieve the things you prioritize without getting distracted by irrelevant possibilities.
Business Plan
From the very start of your online business, you need to know what your business does and what it offers. If you sell products, you need to select which companies to partner with and source supplies from. You should have a plan to connect with clients if you provide a service. It helps to have a specific target audience in your business plan, which will help you know how to market yourself. Every business needs funding and a financial plan to ensure you're increasing revenue and staying out of debt. As you establish your online presence, your business plan will help you curate a marketing strategy that aligns with your vision and goals. Don't start your business without a firm plan in place!
Market Research
You know your business offers value to the public, but do they? Doing market research will help you understand customers' core needs, which will help you know how to communicate your offer in a way that resonates with them and convinces them to make a purchase. If you have a fantastic product but don't know how to communicate its value to the people that need it, your business won't grow very fast. Research your competitors to understand the market and identify what is working or not working for them. Figure out what sets you apart and what messaging your target market is drawn to. This research will be invaluable to you moving forward.
Elevator Pitch
Once you know how to communicate the value of your offer to your target audience, you need to refine your pitch. You should be able to explain what your business offers concisely and compellingly within only a sentence or two. Think of being stuck in an elevator for 30 seconds with the potential customer of your dreams! How would you take them to the next step in your business in less than a minute? What are the most precise words to explain what you do? What are the most concise words that connect with their felt needs? How can you leave them stepping out of that elevator wanting more?
Business Email
People need to contact you. Most online businesses don't have a phone number accessible, so establishing a business email address is vital. This will be valuable as you start various business accounts or download software for your business. Ideally, your email address will either be info@YourBusinessName.com or YourBusinessName@domain.com. You can create an email address with your website as the domain if you have a business website. If you can't do this, you can set up a temporary Gmail to transition to your own environment once everything is set up. Once you have an email account, you can begin connecting with clients through email. You can create an email subscriber opt-in if you have a blog or content on your website. Once they give you their email address, you can send them discounts, downloadable resources, articles, new products, and business updates to help them stay connected.
System for Record-Keeping
Keeping precise records will be your new best friend. Keep track of the time you spend, the money you spend, the revenue you make, and the products you sell, and keep all business and tax documentation in one place. You should have organized financial records for each month, quarter, and year you are in business. You should also keep track of tax information throughout the year, so filing your taxes is simple. If you book appointments, consultations, client calls, or any other meetings, you can find the best calendar to keep track of your time commitments. There is also a myriad of booking software available to make appointments easy to manage on both sides.
Legal Paperwork and Financial Accounts
Depending on your business, you may not need all of the paperwork and accounts that a brick-and-mortar company might. Research the requirements for your state and county. If you register your business, you will need to know whether to set up an LLC, corporation, DBA, or sole proprietorship. In addition, you may need to file for specific business licenses or permits depending on what you sell. Once your business meets all the requirements, you can set up bank accounts to keep your financial transactions in order.
Registered Domain
No official business wants to be running on blogspot.com. You need your own domain to be perceived as professional and trustworthy. You can use dozens of websites to check domain availability, like Google Domains. Purchasing a domain name is usually inexpensive unless you have a common business name with a lot of competition. Once you buy a domain, that will be your website name. You can purchase multiple domains and reroute them to your website if you'd like people to find you in numerous ways.
Website
Once you have a domain, you have to set up a website. This begins by selecting a host. Every website is hosted on a worldwide server, so you must choose a hosting platform like GoDaddy and purchase a basic hosting plan. There are also services like Squarespace and Wix, which will host your website and give you all the design tools you need in one place. If you don't use an all-in-one service, you can set up a website using WordPress through your hosting platform. If this sounds overwhelming, it might be a good idea to hire a web developer (HINT HINT) to help. Once you have your website started, you'll need to build your web pages. You should have a home page, an about page, a contact page, and an online shop. Finally, utilize your brand name and colors to make your website look professional and consistent with all your other branding.
Logo
Every professional business needs a logo. With one glance, this critical part of your brand identity tells your potential customers who you are. They will see whether you used an elegant, feminine font, a daring, bold font, a rustic natural font, or a minimalistic timeless font. They will also notice whether you used pastel colors, neon colors, bright colors, muted colors, or neutral colors. The combination of colors you use can communicate the personality of your brand and will draw the eye of your ideal customer. This can be portrayed through your design elements, lines, graphics, and shapes. If you need help brainstorming which fonts and color palettes will best communicate your brand's identity, download our free Brainstorming Guide.
Brand Guide
Whether you design all your social media graphics and marketing materials yourself or hire a graphic designer or VA to help you, you should have a brand guide. A brand guide lists out the names of each font, the codes for each color, and the core messaging of your brand so that every design and promotional graphic looks consistent. A brand guide will help create web pages, postcards, business cards, letterhead, social media graphics, and promotional flyers. If you haven't yet selected the colors and fonts that best match your brand, use my brainstorming guide link above to help create a consistent brand identity that grows your credibility within your target market.
Business Card
Even though you're an online business, face-to-face networking will still happen. If you bump into your ideal customer in real life, you should be equipped with a professional business card to hand them. A business card will include your logo, brand colors, branded fonts, business name, website, and contact info, including your business email. Make sure you have each listed item before making business cards. Some people even like to include a QR code that takes people directly to their website. Then, don't forget to slip a few business cards into your bag whenever you leave your home or office.
Letterhead
Having official business letterhead is a necessity. It truly takes your brand's professionalism and credibility to the next level. If you need a graphic designer to create stationery for you, send them your brand guide and logo, and they will have everything they need to get started. You can use your letterhead for any official business correspondence or even invoices.
Blog
Posting consistent content in a blog-like format helps Google know that your website is up-to-date. This will rank your website higher in Google search results and make it easier to find online, which is invaluable for online businesses. For example, you can post business updates, sales, and discounts through your blog and email list if you sell products. You could also post about how to use your product or industry-related articles. If you provide a service, you can publish content to give your clients more information and set yourself apart as a thought leader within your niche market. For example, real estate agents like to post articles about how to find your dream home, the best times to buy a house, and home decorating trends. On the other hand, a natural deodorant company might post articles about hygiene or where to buy non-toxic products. If you're not a natural writer, you can hire a freelance writer skilled in writing articles optimized for search engine algorithm visibility.
Social Media
As a digital business, part of your online marketing plan should include at least one social media platform. Platforms you can utilize are Facebook, Instagram, TikTok, Twitter, YouTube, LinkedIn, Pinterest, and Reddit. Don't go overboard. Choose only one to three platforms to focus your marketing strategy on. The goal is to post consistently on each platform with information about your products/services, branded content, photos, and graphics. Social media platforms are great ways to connect with new customers and increase online engagement with your brand. Ensure each social media platform is linked to your website and has your contact information.
As you start your new online business, this is the ultimate business checklist to help you have everything you need to be successful. With these accounts and resources in place, you will have all the tools you need to start your business in the best direction. Your potential clients will know just by looking at your website or logo that you are a trustworthy professional. With consistent branding and a credible online presence, it will be easy for potential customers to connect with you, trust you, and purchase from you. As a result, you will increase your revenue and grow your market! If you're still feeling unsure about your branding or feel like you don't have an eye for graphic design, you can use our downloadable Brainstorming Guide to give you confidence. This guide was created by graphic design professionals with decades of experience running a successful business. We provide you with all the crucial questions you need to answer before developing scroll-stopping marketing that your customers will love.
Don't let the overwhelm of starting a business make you feel stuck. With this ultimate business checklist under your belt, you can take it one step at a time until your business is ready to launch! Online businesses are being started and experiencing tremendous success every day. Your business could be next with a bit of grit and a whole lot of passion!
https://soapboxstudio.com/wp-content/uploads/2022/10/Starting_a_New_Online_Business.jpg
1068
1600
soapboxstudio
https://soapboxstudio.com/wp-content/uploads/2022/01/soapbox_logo_navy.png
soapboxstudio
2022-08-20 13:44:23
2023-05-12 16:16:13
The Ultimate Checklist for Starting a New Online Business