Graphic Design: 10 Tips for Entrepreneurs

Since aesthetics mean so much to today's generation of consumers, even the most low-tech entrepreneur could use a few design tips. We've got you covered. As a graphic design company with over 50 years of combined experience designing websites and graphics for entrepreneurs and business owners, we know what it takes to keep up with today's trends. These are our top ten tips to keep your graphics looking clean and professional in today's marketplace.
1. Keep It Simple
People often believe that graphics need to be complex to look professional. This simply isn't true. Keeping your designs minimalistic makes them easier to use in a variety of contexts while maintaining that clean crisp look that draws the eye. Think about the simple shapes, lines, colors, and fonts that your favorite brands use. How can you replicate that simplicity for your brand identity? Stay away from complicated overlays, photographs, and unreadable text or colors that will distract people from who you are and what you offer.
Brainstorm Your Logo Creation Today!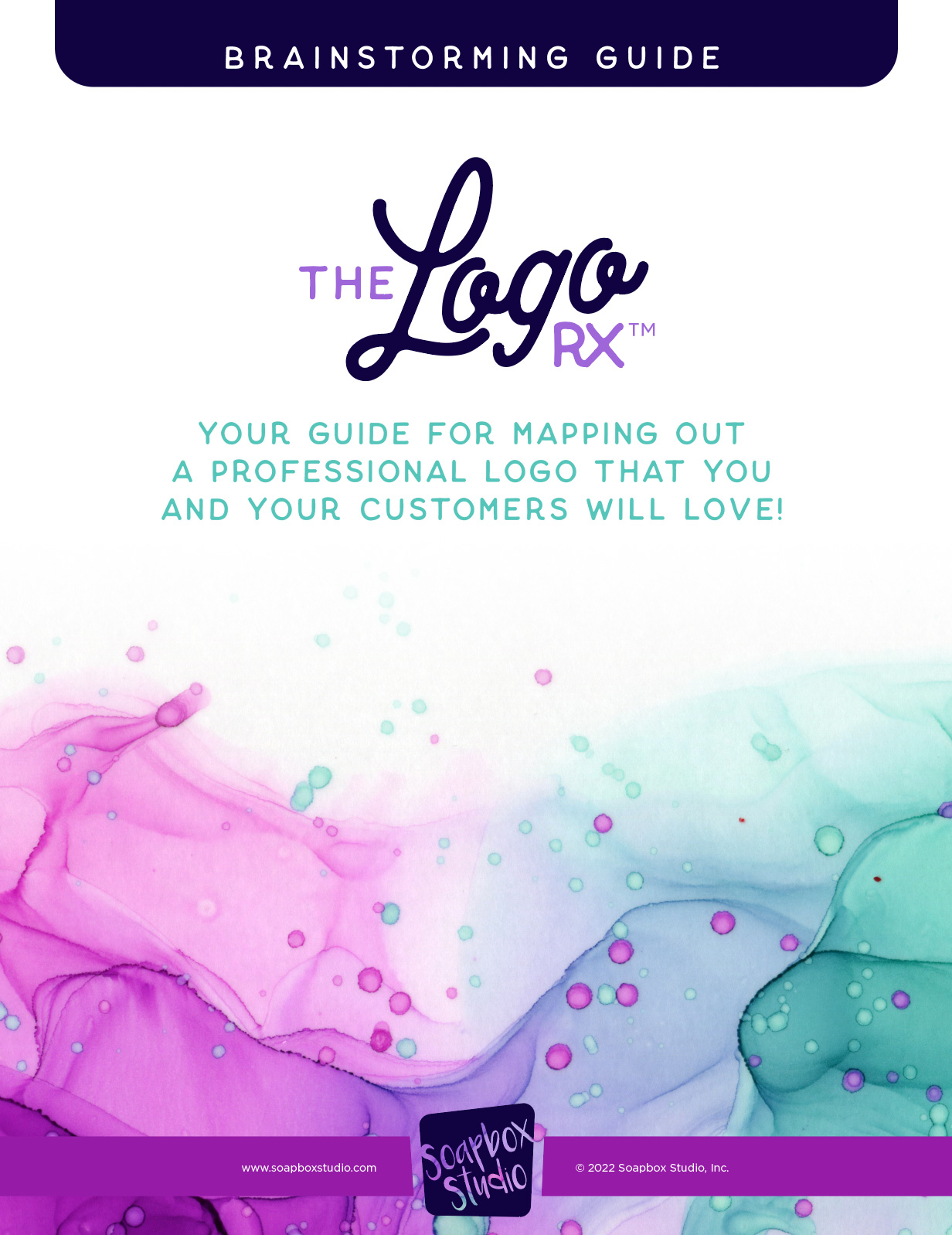 This guide will walk you through the steps I use as a professional designer, to create beautiful logos for all my clients. I am sharing my steps for FREE, so you can use this secret sauce on your own logos.
2. Be Consistent with Colors and Fonts
If you could summarize your brand identity in just a few words, what would you say? Is your brand modern, adventurous, rustic, or colorful? Identifying some key adjectives surrounding your identity will help you stay consistent throughout your web presence and print materials. If you run an accounting firm, you probably don't want to use a childlike crayon font. If you own a sporting goods brand, you want to stay away from scrolling cursive fonts. The same holds true for colors. If you're marketing to young women, rustic browns probably won't communicate your identity effectively. Similarly, A baby clothing brand might want to avoid harsh neons. Whatever tone you choose for your branding – be consistent across the board.
3. Don't Use Too Many Graphics or Icons
When it comes to promoting your company, it's easy to get overly excited. You could fill a vision board with graphics that fit with your company's vision. But be careful! If you use too many, people get visually overwhelmed and can't make sense of what they're looking at. For a logo, just use one image concept. Don't try to combine too many or it will no longer make sense. On
your website, keep it simple. You can add some images or graphics that help set the tone, but don't fill every square inch. People need negative space and simplicity so they keep scrolling and want to learn more.
4. Use Script Fonts Sparingly (and never in all caps)
We like to play around with fancy fonts. It's just fun. But when you're establishing a brand identity, you need to prioritize readability. If customers can't read the words you post, it's going to be pretty hard to connect with them. One of the most notoriously hard to read font styles is script fonts. These are the fonts that look like handwriting or cursive. They are often thin and have a lot of extra curly wisps at the ends of letters and sentences. Use these fonts very sparingly, if at all. This is not the type of font that you want to use for your main website copy or slogan. And if you use a script font, never use it in all capital letters. These fonts weren't designed to be in all caps, and it often makes them even harder to read. If you're using a script font for a main title or heading, make sure you don't play too much with the letter spacing or distance. This can make it look awkward and minimize the handwriting effect that you were aiming for to begin with.
5. Have Someone Other Than You Critique Your Work
We are our own worst critics, but sometimes we're also our own worst enablers. We know how much work and passion went into a project, so sometimes it is hard for us to see the flaws that exist. Getting an extra pair of eyes to look at your work and give feedback can help you see your website or brand through a newcomer's eyes. Maybe the colors you used don't fit the vibe. Or maybe it's harder to read the fonts than you realized. Getting an outside opinion can help you cover all your bases so you don't run into problems later on.
6. Make a Folder of Logos or Brands You Love
Especially when you're just establishing your brand or going through a rebranding process, it's easy to get lost in the details. If you find yourself overwhelmed with all the options for colors or fonts to use, take a break. Spend a few minutes collecting the logos, shapes, and colors used by your favorite brands and put them all in one folder. Then spend some time looking them over together. What common themes do you see? Are there similar color schemes? Do they use a similar font design? Are there specific lines or shapes among the logos? This exercise will help you cut through the overwhelming amount of options to identify what you like and what elements your eye is drawn to.
7. Don't Feel Obligated to Use a Friend of a Friend
If your friend's son is going to school for graphic design, you shouldn't feel automatically obligated to use him. This is your professional brand and the quality matters. It's easy to take shortcuts or cut costs, but you usually get what you pay for. You don't want your brand to lose credibility with your customers because it looks like an amateur did it. When you're seeking help
to establish your brand identity and get professional assistance designing your logo, do your research. Look at the portfolio of past projects a designer has done and see if they align with your vision. Find someone who you are confident can deliver the professional results that you want as an established business owner with a reputable brand.
8. Don't Do It Yourself
Unless you have training in graphic design, trying to achieve your vision by yourself will only result in stress and frustration. It's easy to have a picture in your head of what you want, but without the skills to achieve it, it's hard to make your vision a reality without help. As an entrepreneur, your driven can-do attitude has gotten you far. There's a lot that you've done on your own. But graphic design doesn't need to be just another item on your to-do list to make you feel overwhelmed. All of the best entrepreneurs have learned how and when to delegate or outsource complex tasks. Instead of spending dozens of hours frustrated at your computer, let a designer spend a couple of hours doing it for you. They have the skills to make your vision a reality in just a few clicks!
9. Spend Your Money Where It Counts
As an entrepreneur, you have to prioritize. You have a limited budget and a seemingly unlimited list of things you could spend it on. So how do you decide where to allocate those funds? Prioritize the items that will draw in more patrons and convert them to paying customers. A logo is often the first impression that people have of your brand. If it's amateur-looking and clunky, they could click off your website without giving it a second glance. If there's money to be spent drawing in customers, a professional logo design will be one of your greatest assets.
10. Hire a Graphic Designer
Once you've thought through all the elements that draw your eye, what colors you prefer, and what tone your brand portrays, hiring a graphic designer is the easiest way to upgrade your web presence almost instantly. There are tons of branding professionals and social media managers that can help with the upkeep once you establish your brand, but you should start with a solid logo and brand guide. A graphic designer can help you get started. Instead of spending the next ten months dreaming of what you want, why not hire a designer today and take real achievable steps towards your goals? As an entrepreneur, making feasible plans to move towards your vision will help you keep building momentum for your business. Turn that vision into a reality by working directly with a designer to receive a logo you can use on all of your web pages, social media posts and merchandise for years to come!
As graphic design professionals, we've seen people fall into the same pitfalls over and over. To help you avoid repeating these same mistakes, we compiled this top ten list to give you the easiest next steps to take. Follow these 10 tips and your business can be booming with customers who love your eye-catching brand. Instead of presenting amateur designs and clunky colors that make potential customers doubt your credentials, you can show up every day with graphics that build their trust and increase their confidence. As you navigate the tricky obstacles of running a business and establishing a reputable online presence, let us keep the graphic design process easy so you can focus on the things that matter most! If you have questions about how to get started with a designer, click here.
https://soapboxstudio.com/wp-content/uploads/2022/04/Graphic_Design_Tips.jpg
1067
1600
soapboxstudio
https://soapboxstudio.com/wp-content/uploads/2022/01/soapbox_logo_navy.png
soapboxstudio
2022-04-13 13:49:50
2023-05-12 19:53:46
Graphic Design: 10 Tips for Entrepreneurs