Get the Help You Need to Run a Successful Business in the 21st Century

Being an entrepreneur or business owner isn't what it used to be. Back in the day, business owners just had to worry about the everyday logistics of keeping the business running. Occasionally an ad might run in the local newspaper, or a sale might bring customers to your brick and mortar storefront. But with the growth of the online marketplace, everything has changed.
In some ways, it has changed for good. Now, people can run businesses remotely from all over the world or connect with clients from the comfort of home. The ease of being an online entrepreneur offers opportunities that didn't exist fifty years ago. But with all these benefits, some advancements can still feel overwhelming and out of reach. Without any background in web design or social media, it's hard to keep up with the ever-shifting market trends. And without someone tech-savvy to help, sometimes it can feel like the online marketplace is moving faster than you can keep up with. Sound relatable?
Brainstorm Your Logo Creation Today!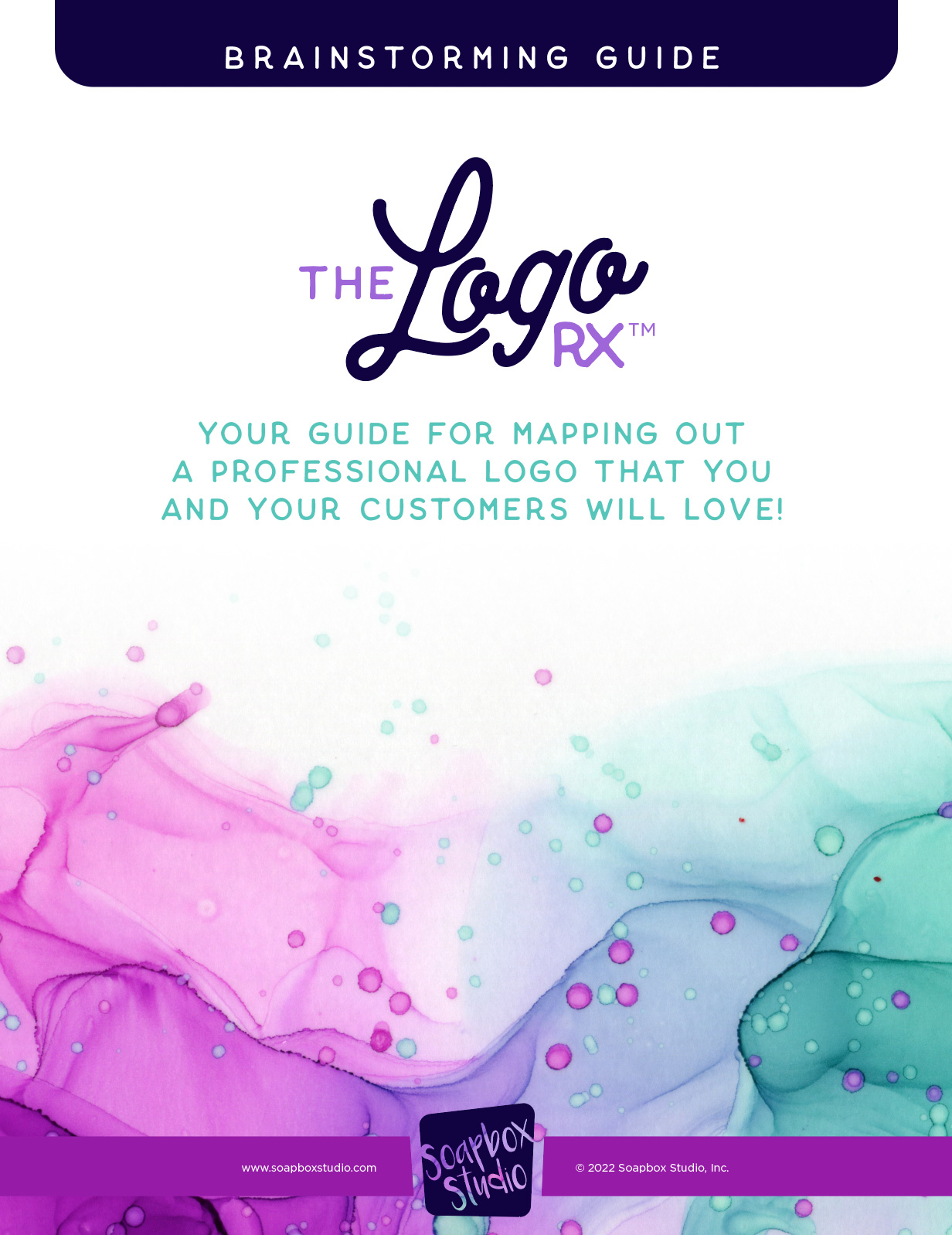 This guide will walk you through the steps I use as a professional designer, to create beautiful logos for all my clients. I am sharing my steps for FREE, so you can use this secret sauce on your own logos.
Today's consumers have come to expect a certain aesthetic and ease of use when they arrive at your website or interact with your brand. If they don't capture the heart of who you are in just a few clicks, they will go to someone else. Clunky logos and amateur graphic design can be deal-breakers.
We Can Help!
As professionals with over 50 years of combined experience in the graphic design industry, we know the struggle. At Soapbox Studio, Inc. We are passionate about helping brands find their perfect look to HELP and not HURT their company growth. We help brands replace their amateur designs with a professionally curated logo, so their credibility doesn't crumble.
With decades of experience catalyzing company sales with seamless designs, we have collected all the best tips to answer the right questions about your unique logo and brand identity in our Logo Rx Brainstorming Guide. This free download walks you through every element you need to think about, especially if you don't know where to start. Through this guide, you can establish a brand identity that is polished and credible enough to draw in your dream customers with a single glance.
So many brands take shortcuts and skimp on budgets that cause their company to suffer. Why hire your friend who has no graphic design training to tackle this problem when industry professionals have free resources just a click away?
What is included in the Logo Rx Brainstorming Guide?
How to Make an Excellent First Impression
A first impression is sometimes all the time you have to draw in your ideal customer, so making a good one matters. Within this guide, you'll find a list of the most important elements to ensure you make the best first impression possible.
Brand Identity Brainstorming Exercises
Do you know the right questions to ask yourself? With this brain dump exercise, you'll be able to get all your thoughts out on paper, so you know where to start. By brainstorming with some questions from industry professionals, you will be able to dream big about the right things instead of getting lost in the abstract.
Refining Your Company Name
Are you confident that your name draws in the right customers? This segment will help you put your name and all identifying characteristics on paper to make sure your brand identity is being communicated clearly and articulately.
Your Brand Tagline
Do you have a tagline? Do you know the importance of a slogan? This is one of those little details that most people forget but can make a big difference. If you're creating a logo, your graphic designer will want to create some logo options that include your tagline and some options without, communicating your identity in more ways than one. This provides you with a versatile brand package for any situation that arises, so you don't have to Photoshop your tagline in as an afterthought.
Your Website
If you have a website set up, that's a great start. But, depending on your goals, you may want more than a home page. For example, a landing page for your product can help increase sales, and a variety of web pages with more information can build your credibility. In addition, listing all your web pages can help you identify where you want to send potential customers, so they are engaged with your brand from the first click.
Choosing Your Brand Colors
If you don't yet have brand colors, this exercise will help you research trending palettes to see what options exist. The guide also includes a breakdown of the emotions, connotations, and benefits of using each color. This segment will help you identify which colors express the essence of your brand so that your colors will work with your tagline, title, and logo design instead of against it.
Thinking Through Fonts
Fonts are another small detail that is easy to overlook. This segment will inspire you to research and select the perfect fonts for your headline, tagline, body copy, and other copy on your website or print materials. Instead of getting overwhelmed by all the options, this section of our guide will encourage you to keep it simple.
Finding Your Perfect Logo Design
While you may not be a graphic design guru, you probably know what kinds of logos you like and don't like. This segment encourages you to copy your favorite logos and put them all in one place so you can see what they have in common. Once you see which logos catch your eye, you'll have a better idea of what elements you'd like included in your company logo.
With this brainstorming guide in your toolbelt, you'll be able to communicate what you want so a graphic designer can create precisely the logo your company needs. Then, instead of feeling stumped or overwhelmed, you'll already have examples to show your favorite options. Download our brainstorming guide HERE to get started.
Or, if you've already done your own brainstorming, you can skip right to hiring our designers so you can have your own professional logo in no time! If you feel confident in what you want but don't have the skills to make your vision a reality, we can help. Hire our designers HERE to catapult your brand's credibility and help you draw in your dream clients. When it comes to more money in the bank, there's no reason to wait. In about a week, you can have your logo launched, and your company's look polished to perfection so that a customer never wants to click over to your competitor's website again!
https://soapboxstudio.com/wp-content/uploads/2022/03/LogoRx_Blog_featured_image-1.jpg
1067
1600
soapboxstudio
https://soapboxstudio.com/wp-content/uploads/2022/01/soapbox_logo_navy.png
soapboxstudio
2022-03-07 19:07:36
2023-07-13 19:46:13
Get the Help You Need to Run a Successful Business in the 21st Century